The thing that I've been hooked on recently, while waiting for the new episode of Glee to come out (pun not intended BWAHHAHAHA); Junior MasterChef Australia.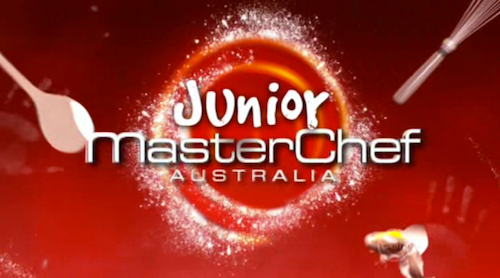 The first time I saw this show was from Chris, she gave me links of it from YouTube and I was quite impressed, but it wasn't until the Chinese New Year open house at Jason's did I open my eyes wider than before and all because of one boy: Pierre.
So I decided to give this show a go and it had been a fantastic experience watching them cook. T_T A very inspiring and a very touching reality TV show. Since they're just kids, there aren't any drama involved. The worst you could get in this kind of show is them messing up on their food… and even if they did mess up, they didn't mess up *that* badly.
I reeeeally like the fact that this show has a positive atmosphere, the contestants cheer each other on rather than putting them down.
And since this is an Australian version of the show, their Aussie accents brings me back to those times where I was surrounded by them when I was a child. Even looking at their faces brought a sense of nostalgia of my childhood.
There was one thing that I noticed when I was watching this show and that was their shoes. Those boots they wear, with tag-loops (I dunno what they're called) hanging at the front and back of their boots, THEY ARE SO AUSTRALIAN. I almost forgot about them.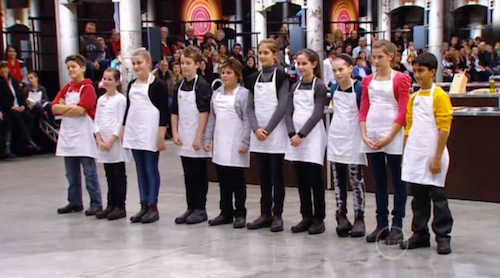 A group of 11 to 12 year olds. They are so tall.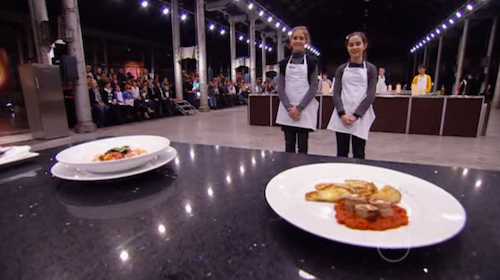 Fraternal twins; Isabella and Sofia. These two are adorable sisters! With Italian ethnicity, they are naturals at cooking.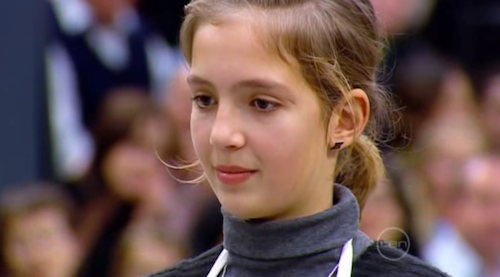 Isabella appears in Heat 1, where her cooking is judged. Just check out those lightning-shaped piercing. As I watched more episodes of Junior Masterchef, I realized that Isabella has the best expressions out of all the girls (Nick wins for the boys' side).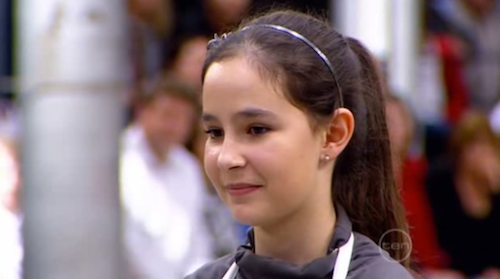 Sofia, in the first round, we see how she was a little shy, maybe because of all the cameras and the judges - that was when one of the adults told her to cook with more confidence.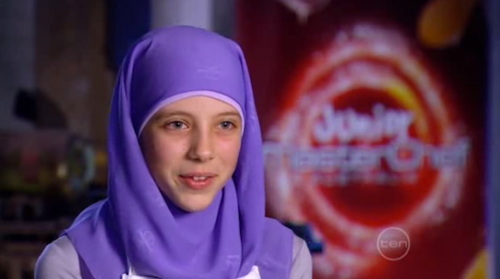 Safiah. I'm… not sure how you spell her name, I only screencapped her because she's wearing a headscarf; a Muslim! Very interesting. Unfortunately, whenever I see her, she's usually expressionless.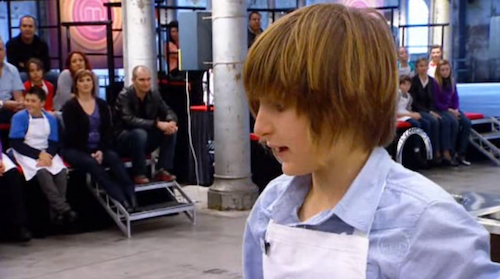 His name is Clarrie. With a name like that, I thought he was a girl. When one of the chef judges called his name, I misheard it as "Kairi." -_-''' But anyways, his face is strange to look at. I like his hairstyle, but his nose is kind of big.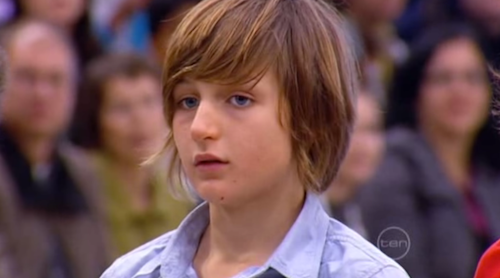 Here's another picture of him, his food being judged.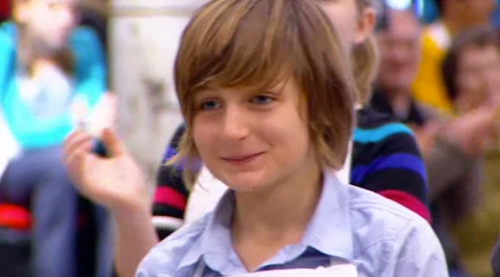 He looks very different when he smiles, better, in a way.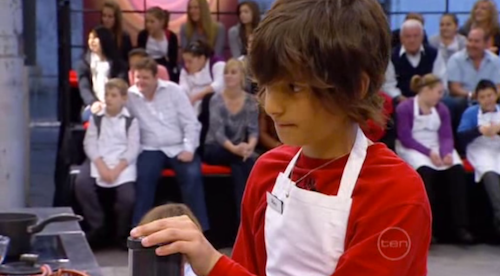 Kid's name is Riley and beautiful face with interesting hairstyle. He messed up on his meringue pie though. Poor kid.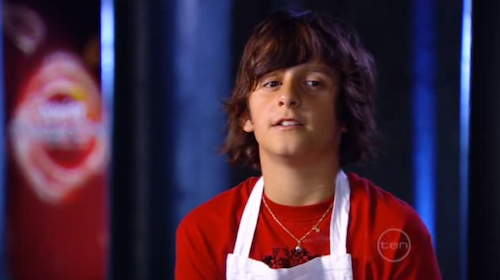 A clearer picture of him.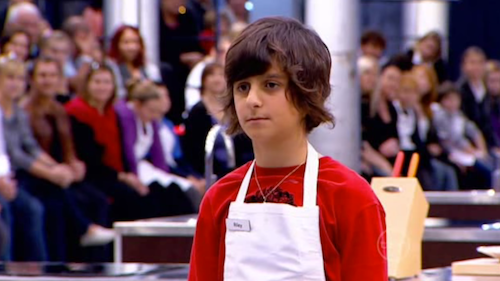 With his food being judged.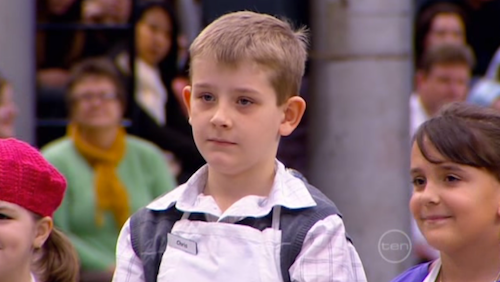 Chris, something about him reminds me of one of my students in the tuition center I teach. -_-''' He is EXPRESSIONLESS. He did smile, but it was so small. And he's one of the youngest contestants in the Top 50 at 9 years old. Or 10, forgot.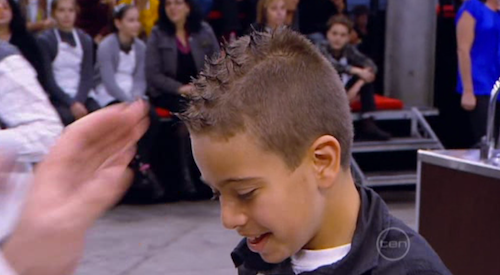 Aaaanthony. Gotta love his tiny spikes on his head. The chefs had a feel of them (lol), apparently his dad did it for him. He is a funny boy this one. x)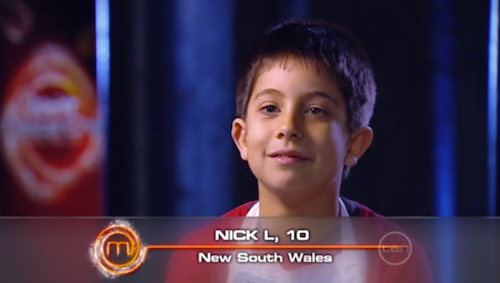 Nicholas~! Such a cutie! :D Love the way he speaks, a very humble boy. He's the guy with the coolest expressions.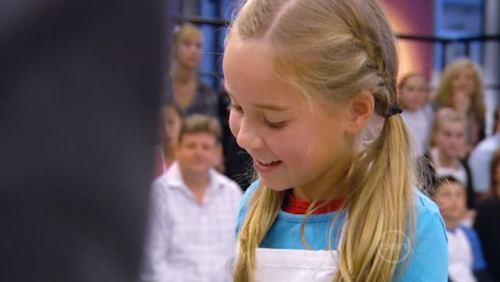 Ahhhh, beautiful Siena. She's sooooo adorable to look at with her little dimples on her cheeks. >_< I also love how she styles her hair. Adorable! ADORABLE LITTLE GIRL.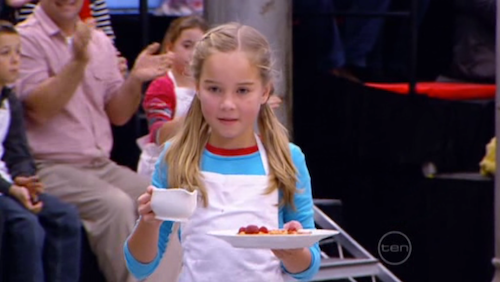 Siena picture spam.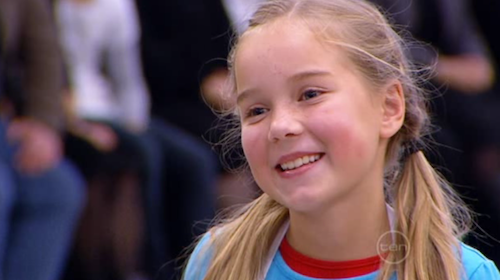 LOOK AT THAT SMILE. T_T
And of course, the real reason why I was so mad about this show; Pierre!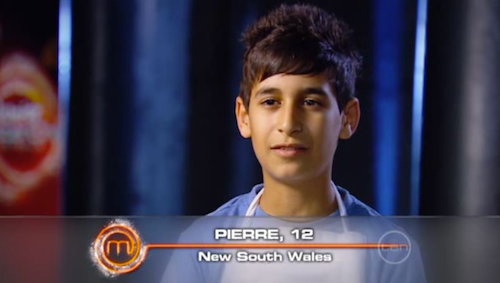 Pierre, 12 years old, with Lebanese heritage.
So yeah, probably the best-looking kid in the show and it's definitely noticeable as sometimes the audience cheer *too* loudly for him. As I looked at more episodes of the show, I realised how he's such a quiet boy.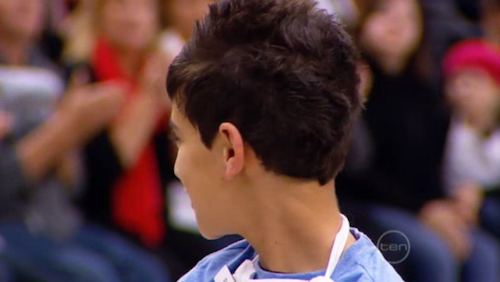 When his name was called out for the winners of the 5th and final heat, his mom and aunty were being fangirls and Pierre was like, "Shhh...!!"
And when they selected the Top 20 junior chefs, he got in, with his herb crusted lamb cutlets (yum)!
Again, his mom and aunt were like: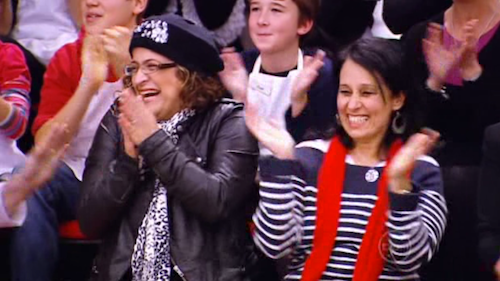 And he was like: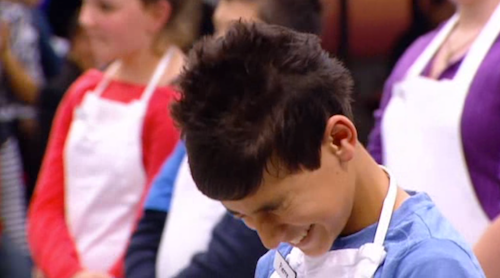 Pierre: "Oh my god!"
Gary: "Your mum's embarrassing, you know."
Matt: "Pierre, mate, no matter how old you are, your mum's always gonna be embarrassing."
So true. LOL.
And so this was the entry that I've been meaning to do ages ago. Will do more, soon. Hopefully.
Current Mood:
satisfied
Current Music: just like me (feat. t.i.) // jamie foxx