Back to this series!! Can't get enough of'em.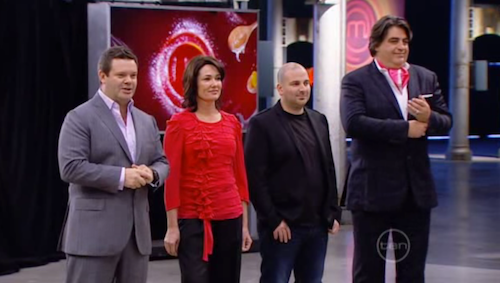 The judges of their food, from left to right, Gary Mehigan, Anna Gare, George Calombaris and Matt Preston. I noticed that Matt has a habit of fixing his cuffs at random times, plus the way he dresses is so flamboyant... or maybe that's the standard uniform for food critics?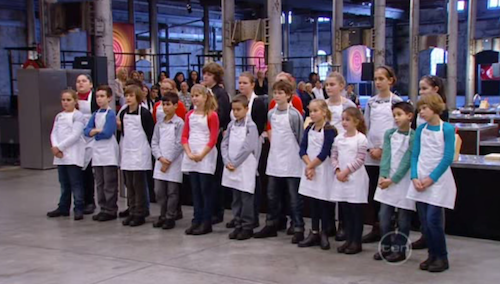 The third episode focuses on the Top 20 junior chefs that got in. They've been assigned to two challenges for that day. In each challenge they'll pick 6 kids and they'll be the ones who'll be in the Top 12. So the first challenge was announced... and they were supposed to cook with two main ingredients.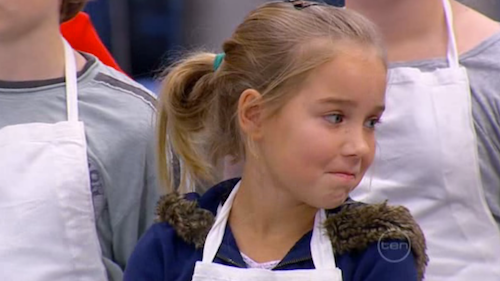 Siena looking nervous (HOW ADORABLE IS HER FACE?!) and damn it, that fur-lined hoodie is FUH-REAKING AWESOME ON HER.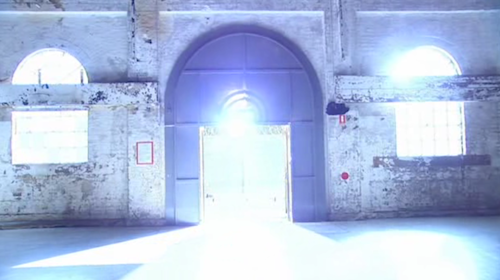 So like, the judges announced that they'll be working with... someone? Or... something? The door behind them opened.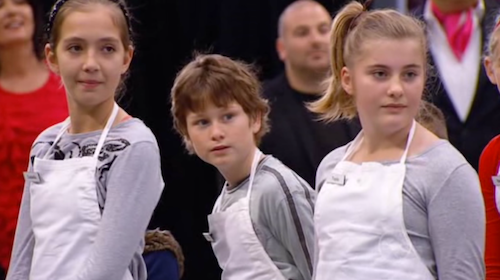 The kids peering at the entrance, the bright light from outside made them difficult to see.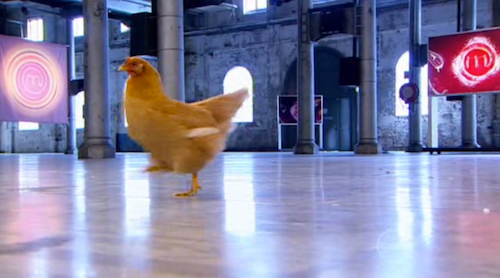 Suddenly, an outline of a chicken formed and they all laughed in disbelief.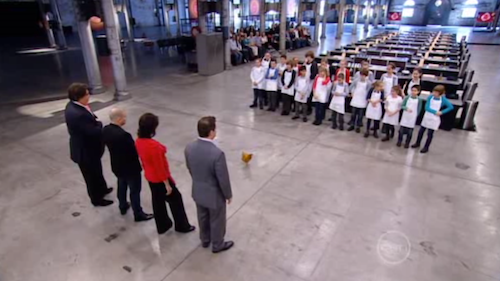 I don't know how they did it, but they made the chicken walk up to the front where they were (I'm sure it's editted, don't think a chicken is that smart to know where it should go... right? @_@). So this was their first main ingredient to work with: CHICKEN. They also had other types of chicken to work with, like spatchcock, fillets, chicken with skin and even......... chicken liver!
To which Anthony responded like:

And Nick was like: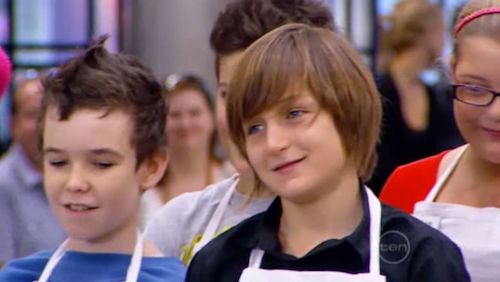 Oh, Clarrie! You still manage to look so cute.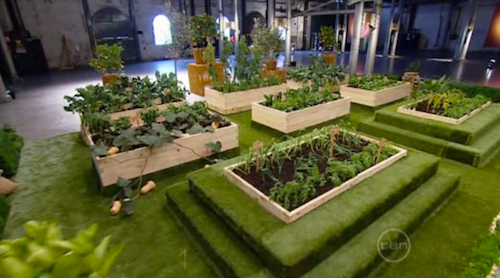 Their second main ingredient was vegetables! Freshly picked from the mini garden.
So they got on with their cooking and once they were done, the ones that caught my eye were the twins, yet again.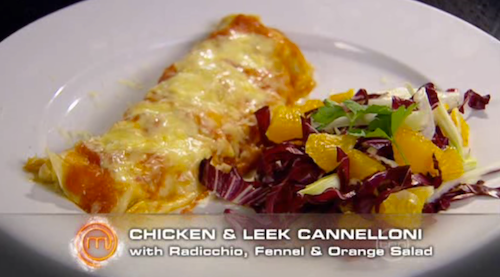 Sofia's dish. I don't even know what raddichio is, or cannelloni, or fennel (which I'm Googling for them now) and what amazed me at first were these little kids conjuring these words as though they'd learned them alongside their ABCs. Amazing. I would LOVE to try this dish. According to the judges, it tastes just as delicious as it looks.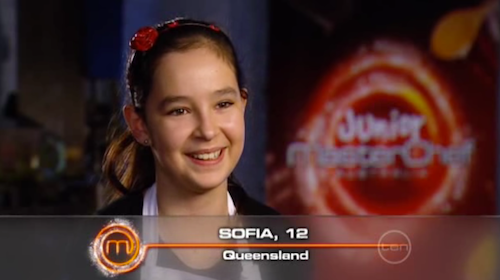 And our beautiful Sofia was happy when Matt Preston was very, very impressed with her dish.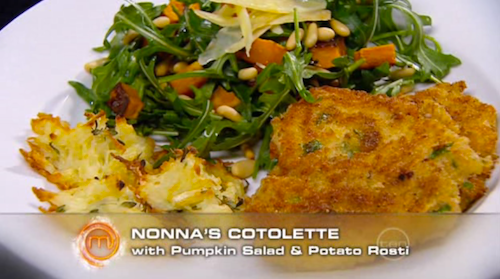 Her sister, Isabella's dish. Her grandmother's cotolette, which looks soooooo niiiiice. :Q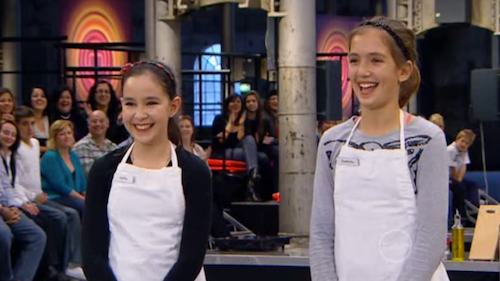 And of course, they loved it and the twins were happy.
Then, the selection of 6 people from the first round.
Of course, our Australian Italian twins got in.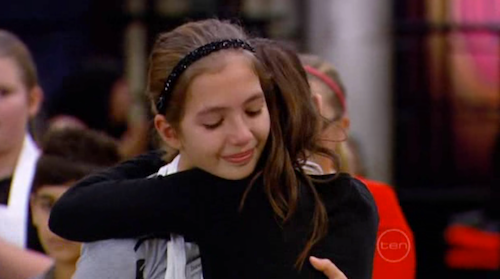 Sisterly love!
Round 2 of the day! DESSERT. Runner-up winner for MasterChef Australia Season 2, Callum Hann, was a guest star. The little cheflings get to bake his awesome looking pudding.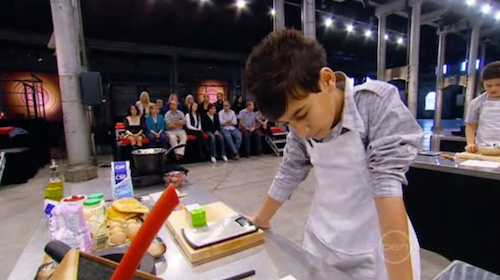 Pierre concentrating on the recipe.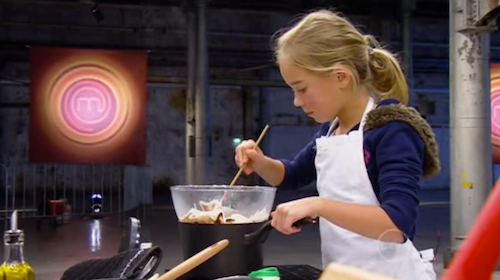 Siena in action.
Judging came and when it was Lucy's turn...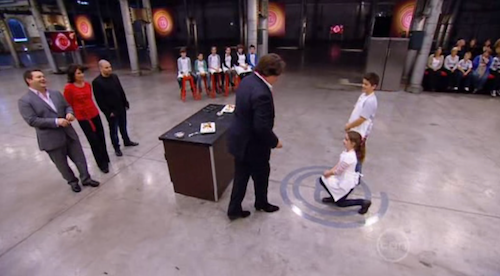 She was knighted as Princess of Pudding by Matt Preston. Hahaha. Cute.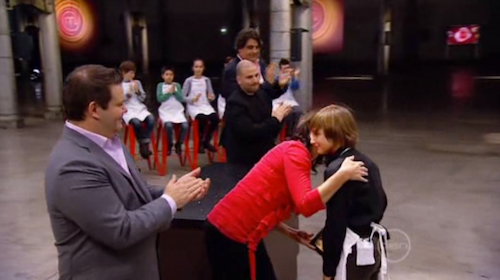 Anna Gare being a... pe- ............person who likes kissing attractive-looking little boys. Hahaha! Including Pierre. I ain't trippin'.
By the end of the show: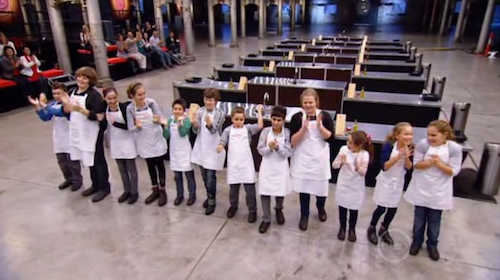 The Top 12. :)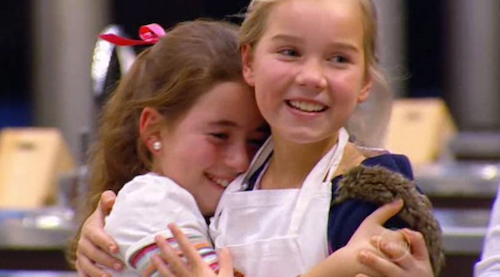 BFFs.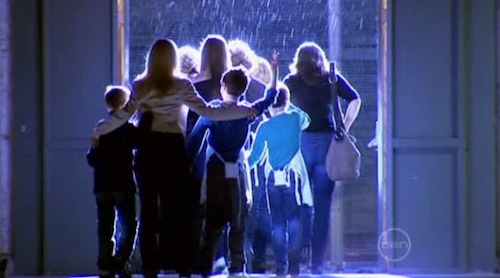 Sam: "Is it snowing? ........No, it's rain......."
Wishful thinking Sam. :( Though I wish Australia really did have snow. I mean, they do snow in higher ranges, like the mountains, but never in the lower lands.
Current Mood:
amused